Impactful SEO To Boost Your Business
Dwellfox is one of the top digital marketing companies in Dubai, UAE, that specializes in bringing growth to your business. We have a team of digital marketing professionals who are experts in SEO Services in Dubai.
Search engine optimization (SEO) is an important aspect of digital marketing that helps websites rank higher in search engine results pages (SERPs). This can lead to increased visibility, traffic, and conversions for a business.
There are many different techniques and strategies that can be used to improve a website's SEO, like on-page SEO, technical SEO, and much more.
SEO is a continuous process, and staying up-to-date with the latest best practices and algorithm updates is crucial for maintaining and improving search engine rankings over time.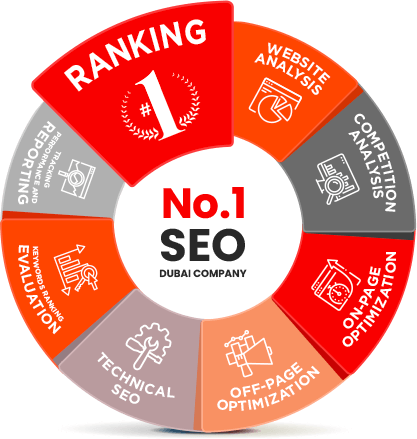 SEO PROCESS AT DWELLFOX DUBAI
At Dwellfox Dubai, experts follow an in-depth strategy to build effective SEO strategies for our clients. It includes:

A Detailed Audit
We first start by performing a detailed audit of the website to determine its strengths and shortcomings.

A Customised Strategy
We develop a comprehensive SEO strategy that is entirely customised to the requirements of your business based on the audit results and other insights. Planning for technological implementation is included as well.
Acquiring Quality Backlinks
Our team shares your information on highly reputable and trusted sites in order to obtain high-quality contextual links. To give you a competitive advantage, we also examine the best backlinks and competitors' mentions.

Implementation
This stage includes the implementation of the optimisation decisions and plans on the website's pages by our SEO experts. We also build a strong internal link structure.

Research
Our team then evaluates your industry, analyses your competitors, and finds ideal keywords that will ensure that your website ranks higher and draws in more traffic.
Reporting
Our clients get complete reports with in-depth analysis of the performance of the website during the specified time period. These reports will enable you to monitor the efficiency of your website and identify the most effective marketing tactics.
Monitoring
To report and evaluate, we constantly monitor web spider activity, search engine rankings, traffic, and other vital metrics. To ensure the most effective performance, both minor and significant issues related to the website's operations are fixed in real-time.
At Dwellfox Dubai, we are aware that the initial steps in SEO services begin with a thorough website audit and analysis. The audit results will highlight quick wins for your site that you'll be able to carry out while we work on other solutions for your site.
With the help of our expert professionals, we will precisely define the major elements of our strategy, including the purposes driving our actions, the keywords we'll target, the content we'll create, and the KPIs we'll be setting.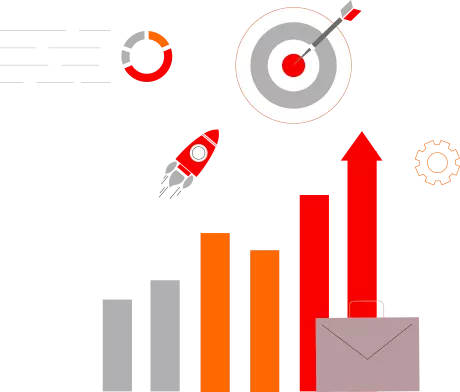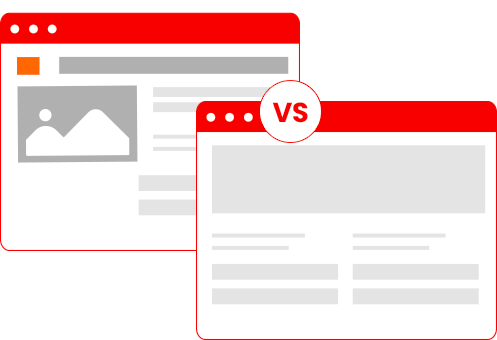 Dwellfox Dubai provides a full range of internet resources and online tools for competitor research. To begin, you must first determine what and who you are up against by conducting significant keyword research!
We use our tools and human inspections to analyse several competitor pages so that you could understand what it will take to go up the search engine results pages (SERPs).
Building backlinks to your site from websites that connect to your competition but return 404 errors is another great technique to outperform them. Our main focus is always on creating content that is beneficial to your site, as well as tweaking and updating existing content to meet various objectives such as improving branding, marketing, and web page ranking through intensive rank tracking.
The best offsite strategy in the world won't work for your business if search engines can't find and understand your website. Technical SEO is what you need in this circumstance.
One of the most significant factors in your project structure and technological display is technical SEO
When we audit your website, we find and explain any technical issues that must be fixed. You need to be open to the idea of changing your website because these alterations are typically time-consuming and complex. The ultimate purpose of changes is to support your SEO strategy, whether they are made at the user interface level or at the code level.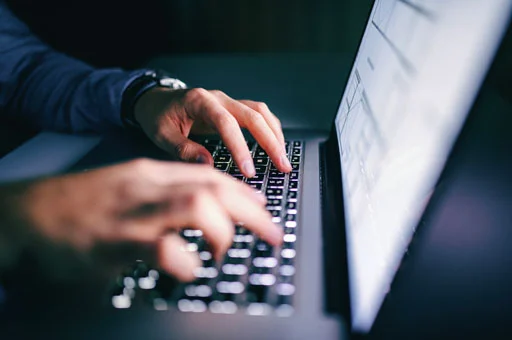 We deliver a comprehensive range of online tools and resources for researching competitors. It's important to first conduct thorough keyword research to find out what and who you are up against!
To assist you in understanding what it will take to get on top of the search engine results pages (SERPs), we analyze a number of competitor pages with our tools and human inspections.
Our top priority is always producing content for your website, as well as editing and upgrading current content to achieve a variety of goals like enhancing branding, marketing, and web page ranking through rank tracking.
With our incredibly proficient off-page SEO services in Dubai, our clients don't have to deal with spam link building as our methodologies are genuine and verified, which they genuinely value.
Our approach is focused on identifying and fixing broken links in highly authoritative and semantically related domains. We present the most effective off-page SEO technique, which is a completely valid link-building strategy.
Our links produce excellent outcomes. As part of our link-building process, we additionally optimize the portfolio of anchor texts for our clients based on our keyword research.
A successful union of people and technology can gather hyper-targeted connections from new referring domains to the potentially targeted pages on your website with Google-approved metrics.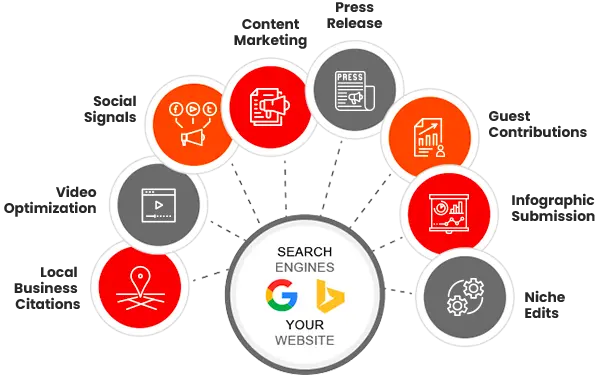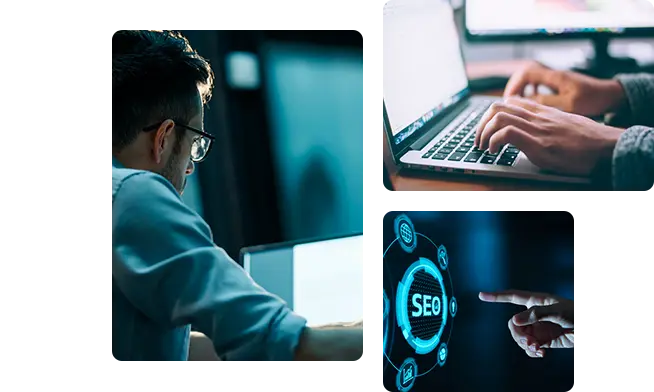 WE DEVELOP CONTENT FOR SEO
We cannot emphasize enough the value of content in your strategy and success. The right content will make your website appear higher in organic search results. Your website should see a boost in organic traffic as an outcome of our efforts to enhance its content.
You'll be partnering with a credible SEO Dubai firm if you work with us because we have a workforce of talented content creators on board, including designers, photographers, and content writers. Each individual in our team is an expert in search marketing and dedicated to creating engaging content that will eventually increase traffic to your website. We make sure that the content on your website is reliable, interesting, and of the highest calibre.
We will engage your consumers with our Google My Business Account so that you receive much more than just business listing. Your ability to connect with clients on Google Search and Maps will be facilitated by your unrestricted business profile.
We also bring clients with impressive business profiles. As part of our strategy, we write high-quality content to highlight the unique qualities of your business and give potential customers reasons to select you above your competitors.
We provide a variety of contact options for your clients, including messaging, calling, and leaving feedback. We can help you keep track of how many people are interacting with you on Google by using the most updated metrics and analytical tools.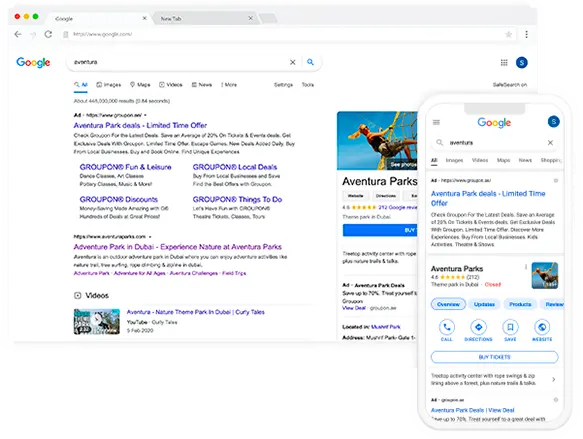 WHY CHOOSE DWELLFOX DUBAI?
A full-service SEO company in the UAE, Dwellfox Dubai offers the best solutions for your company.
 > Provide successful SEO strategies that are customized to the needs of your company.
 > Conduct a detailed SEO audit for your business's website.
 >  Execute an in-depth SEO audit for the website of your company.
 >  Increase the visibility of your company in search results..
 Schedule a consultation now with the leading SEO company in Dubai.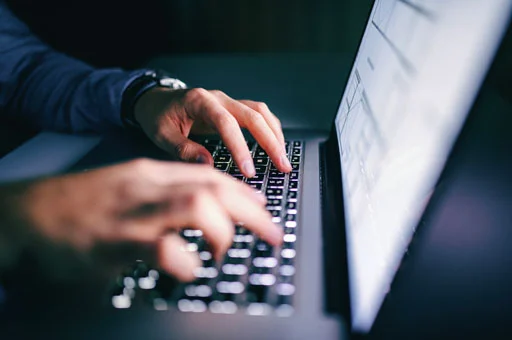 We bring you powerful advantages to navigate your digital transformation
Request a demo to see how wellaar platform can power your extended workforce.