Pay Per Click (PPC) Services in Dubai
Boost Brand Awareness and Generate More Leads
Many businesses are searching for instant and effective ways to present their brands in front of people who are likely to convert into customers since the world of digital marketing is constantly changing. With the help of the Digital Marketing services of Dwellfox in Dubai, you can improve your website's visibility in search engines and get results right away.
With PPC Advertising, Make the Best Decisions for Your Business
The internet world is expanding right now, and websites are springing up like wildflowers. Nearly everyone is using the internet to plan their advertising strategies and maximise every conversion channel, from small businesses to e-commerce companies and independent professionals. But with internet marketing efforts, many businesses now face significant challenges, even marketing options come with more challenges.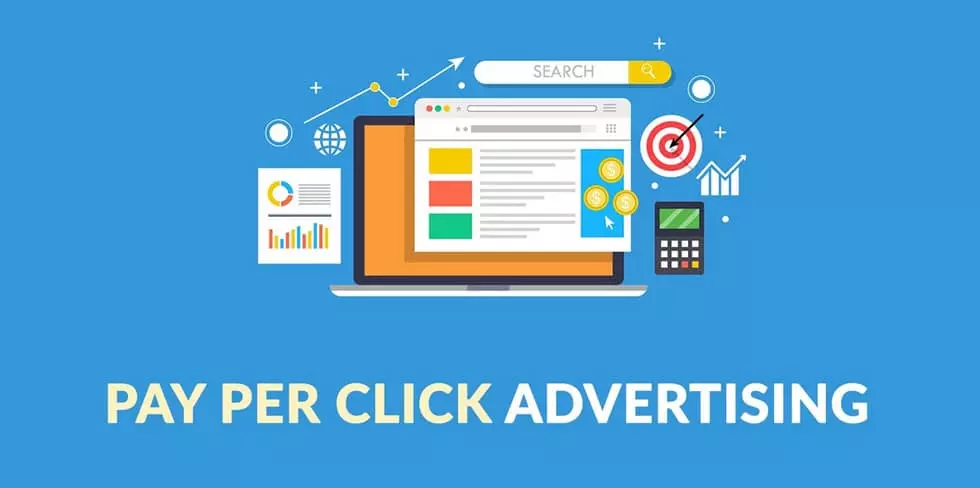 Despite the accessibility of advertising resources and digital marketing options, some companies fail to reach their target market. As a result, businesses in the market are competing against an enormous challenge and having little success with their attempt with social media marketing. Previously, social media platforms gave businesses access to millions of potential clients globally for free. In order to get their content in front of their target customers, businesses now have to spend more due to regulations that have been introduced over time by social media companies.
Pay-per-click advertising is the best option if you're searching for an instant campaign boost and a quick return on investment (ROI). With customised PPC services, you can keep total control over your sponsored search marketing strategies and achieve successful business results.
Which is the better course of action for your brand - SEO or PPC?
Deciding if PPC, organic search, or a combination of these digital marketing approaches is the best course of action for your company requires an understanding of your target audience and an analysis of their online activities.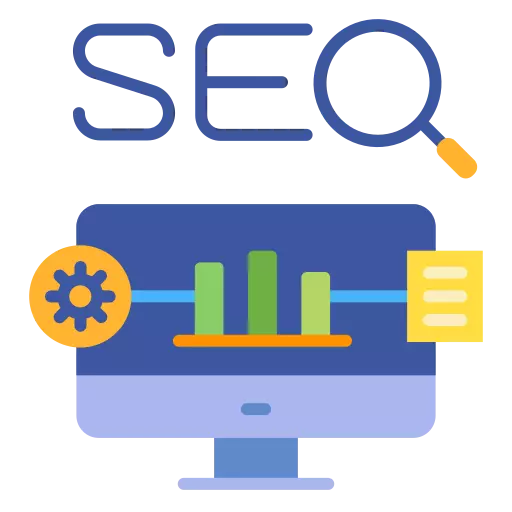 SEARCH ENGINE OPTIMIZATION
SEO is a successful strategy to boost organic traffic, create brand awareness, establish an online presence, and win over customers.
If search engine optimization is performed well, results from the website's SEO might be seen within 2–3 months.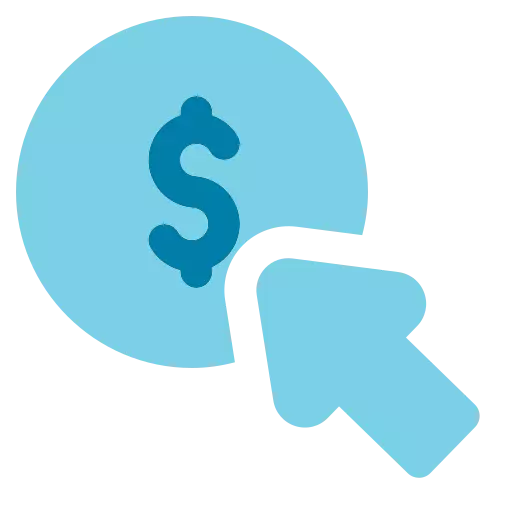 Pay per click digital marketing might be your right choice if you have a short amount of time to promote your brand and have an influence on your target market.
As the results can be seen right off the bat and you only have to pay for the clicks and not for every impression.
Take advantage of customer search opportunities by implementing PPC marketing.
Dwellfox Dubai is a leading company when it comes to pay-per-click marketing services. We work with a range of industry leaders and marketing experts to assist them in generating more leads, building brand recognition, and achieving their goals.
Our pay-per-click marketing professionals have mastered PPC throughout the years, understanding how it affects many stakeholders and what it takes to succeed online. If you're still not sure if pay-per-click is the best advertising strategy for your business, we are here to assist you.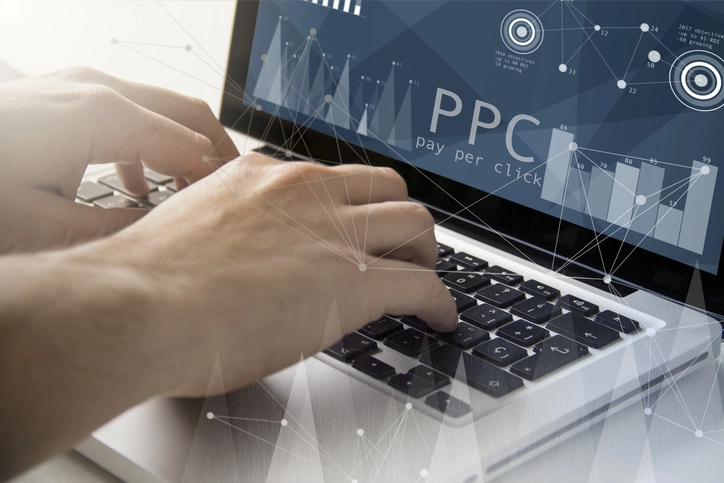 What Is Pay Per Click and How Does It Work?
Grow Your Business With Optimized Paid Search Campaigns
Pay-per-click advertising is a sponsored search strategy used to market brand offers, increase brand recognition, and acquire quick engagement with certain target categories. With PPC, marketers only pay when a person clicks on the PPC advertising, thus the term "pay-per-click."
When considering pay per click, most people immediately think of Google PPC. Pay-per-click advertising, however, extends beyond the Google Display Network and SERPs. Pay-per-click advertising is also used on social media platforms including LinkedIn, Facebook, Pinterest, and YouTube.
PPC enables advertisers to position ads on a range of online marketing platforms strategically to increase the visibility of their goods and services to their target market. This indicates that the ads you encounter online are pay-per-click ones.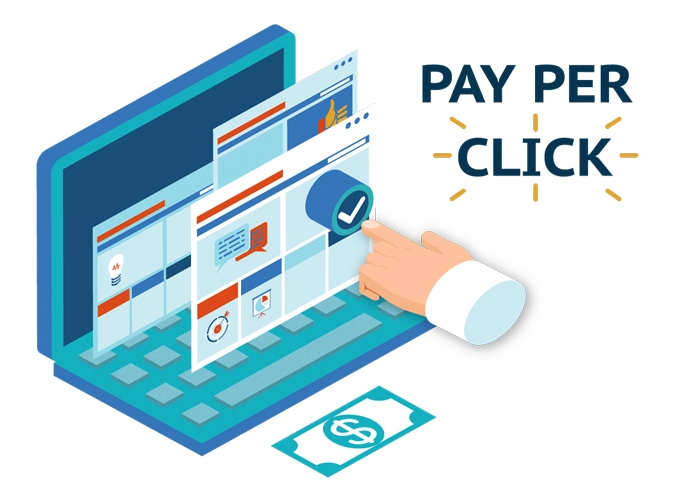 What Kinds of PPC Ads Are There?
Understanding the various PPC marketing campaigns that can aid in increasing your online visibility and exposing your products to the appropriate targeted audience is the next step after you've gained a basic understanding of search marketing. The right PPC ads that you can represent to complete your sales funnel are decided by collaborative efforts with your team by our pay-per-click advertising company.
Depending on your goals, different pay-per-click advertisements are available:

Search Ads
Search advertising is the most commonly used form of paid search marketing. Prospects who are already searching online for your sector or brand offers see your search advertisements. These pay-per-click advertisements are appropriate for one-time marketing campaigns or short sales cycles.Our pay-per-click marketing team advises businesses to consider search advertisements if they are trying to obtain reliable, high-quality leads from potential clients.

Remarketing Ads
One of the finest strategies to maximise your sales and reach clients who convert well is through remarketing. Remarketing advertisements encourage website visitors to return and convert by reminding them to do so. Remarketing is generally less expensive than search advertising due to decreased competition and highly targeted consumer segments. Our PPC marketing service uses innovative PPC ad types and extensions to successfully complete your PPC campaign.
Gmail Sponsored Promotions (GSP)
Direct response leads can be generated efficiently using Gmail sponsored campaigns. With GSP, you can directly contact prospective leads via email. Contrary to YouTube ads, GSP commercials include a click-to-call functionality that allows prospects to contact you immediately and convert at any point in your sales funnel.

Display Ads
Targeting users who visited websites with a similar industry, display advertisements are shown on Google's partner websites. Display advertising makes the most of images and text to grab online consumers' attention and encourage them to act. Display advertising is something that our pay-per-click agency suggests to businesses with prolonged sales cycles and niche or upscale clients.
Google Shopping Ads
Google Shopping ads are appropriate for websites with a lot of products. Prospects can examine the products and pricing on the Google SERP before they even click into any website because of this PPC advertising, which appears in a carousel above or next to the primary Google search results. This means that every click you spend money on has a better probability of converting. For eCommerce companies looking to connect with clients with the intention to buy, we suggest Google Shopping ads.
Local Services Ads
The pay-per-lead model is used for local service ads. A few markets, such as electricians, builders, jewellers, and more, can benefit from local service advertising. Our PPC company works with local service providers to improve their exposure in their target markets.

Social Ads
The fastest-growing subset of pay-per-click marketing services is social media paid advertising. On social media sites like Facebook, Instagram, LinkedIn, and Twitter, social advertisements are promoted. They have been designed to connect with prospects based on their networks, interests, hobbies, and other things. Social media advertising is appropriate for firms with a robust social media following and a targeted audience.
In-stream Ads
In-stream ads are often known as YouTube ads. These are pay-per-click advertisements that can be seen on YouTube videos, search results, and video partners on the Display Network. YouTube ads give your brand a unique and engaging appearance by allowing businesses to place ads in the most advantageous spots and at organic intervals in video content.
Amazon PPC Ads
One of the PPC services that is becoming more and more popular in the online world is Amazon advertising. By placing sponsored advertising on the platform's strategic spots, Amazon PPC ads enable Amazon sellers to increase store traffic, increase sales, and build brand recognition. At Dwellfox Dubai, we manage your Amazon PPC campaigns and raise your profit margin by utilising the technical expertise and skills of our PPC experts.
Why Pay-per-click Marketing Is Important For Your Business?
Build Brand Recognition and Expand Right Away
PPC (pay-per-click) search engine marketing is a digital marketing technique used to improve a brand's exposure in SERPs, like those for specific keywords on Bing, Yahoo, and Google. It seeks to drive more conversions to the marketed website by increasing traffic through optimised ads.
PPC search engine marketing has emerged as a vital element of digital marketing as more and more customers do their shopping online. It enables marketers to only pay for impressions that bring in users. One of the quickest ways to increase traffic and conversions is to have each visitor gradually raise your organic search ranks.
Here are the top benefits of investing in PPC advertising services: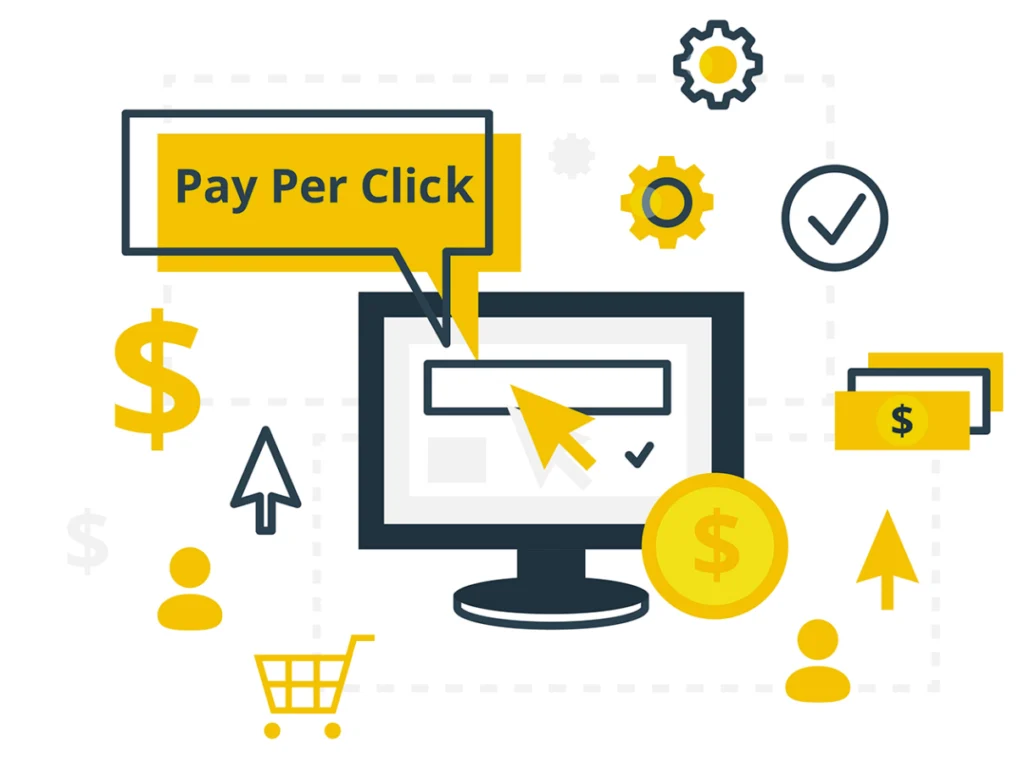 Low Barrier to Entry
Paid search marketing offers a step-by-step guide to help marketers and beginners get started on their ad creation. Even if you're a decade behind your competitors on acquiring pay per click services, you can get your campaign up and running in no time with help from our trusted PPC management firm.

Granular Targeting
Serve targeted messages to your ideal customers based on their search behavior, online activities and preferred platforms. Pay per click services prioritize the most relevant audiences at a time when they are likely to make a decision to purchase. Additionally, PPC allows you to connect with specific customer groups based on gender, age group, location and other demographics.
Quick Experimentation
Gmail sponsored promotions are an effective way to generate direct response leads. GSP allows you to reach interested leads right in their inbox. Unlike YouTube ads, GSP has a click-to-call ability that enables prospects to make direct calls to you and convert at any point of your sales funnel. Our PPC company sets up your GSP to maximize its targeting abilities and generate high-quality clicks.
Immediate and Consistent Traffic
PPC management works effectively with SEO in enhancing brand exposure and driving targeted traffic to your website. PPC is the fastest method to run paid search campaigns, kick off marketing efforts and get clicks and immediate traffic from interested customers.
Trackable Data
PPC advertising services provide measurable and trackable data, eliminating the guesswork in campaign tracking and reporting. Google Analytics automatically tracks your campaign metrics, such as view impressions, clicks and conversions, to provide you with a clear picture of your pay-per-click campaign performance.

Improved Brand Visibility
Investing in PPC management services is a surefire way to get your products and services showing up in places where your target customers are spending time. PPC advertising captures the awareness phase of your marketing funnel and gets more prospects and high-converting customers to notice your brand.
Fast Results
One of the biggest advantages of pay per click advertising services is you can get immediate results upon campaign launch. Once our pay per click advertising company has set up your PPC campaign, you can see the results overnight. However, keep in mind that the first three months typically serve as a testing period. This means to get more favorable results, you need to acquire valuable data and continuously improve your campaign's overall performance.
One-time Campaign Promotions
Don't have the budget to implement on-going digital marketing efforts? Pay per click services allow you to launch one-time campaign promotions and run short sales cycles. Pay per click advertising is a cost-effective way to introduce your new products and services to the online marketplace and separate PPC campaigns by priority.
Expansive Traction Channels
Different online platforms use the paid search advertising model to tap into a massive network of consumers. With pay per click advertising services, you can now leverage various marketing channels to promote your brand and reach a large number of people on the internet.
Total Customization
Beat the competition with custom, highly-relevant Google pay per click campaigns that resonate with your target audience. PPC gives you access to a wealth of marketing data to optimize your ad performance. Select every aspect of your pay per click campaign from the keywords, audience targeting, placements and even the specific zip codes you want your ads to run in.
Ready to launch your PPC search engine marketing campaign? Understand the basics of search engine marketing and find out how you can utilize our SEM agency's expertise to boost your competitive advantage.
We bring you powerful advantages to navigate your digital transformation
Request a demo to see how wellaar platform can power your extended workforce.